Watercolors & Sketches
"I don't mind being miserable as long as I'm painting well."
Grace Hartigan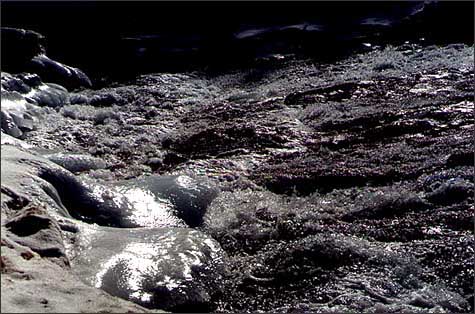 Ice melting off the Elbow River, Alberta, Canada. Spring 1999.
The Process
Most of the following figurative works are studies using a combination of watercolor pencil and real water color paints on a medium weight drawing paper. The interplay of the pigments, the paper, and the most amazing tool of all, water (sprayed, brushed, blobed, etc) is truely a fascinating thing to experience. There are an infinate degree of coalescing influences that continue to amaze me in the exploration of water soluble pigment on paper. Control is not something you can seize...many times I find myself struggling to marry my ambition with the creative exploratory process of letting the media help uncover something more abstract. Interesting that the latter tends to be much more deeply satisfying.
For example, sometimes when the paper is saturated in a non-uniform mannor, water is free to flow across the curling surface of the paper and pool, picking up more of the pre-deposited pigments fromt the watercolor pencils. Capilliary action might draw water into less saturated regions of the paper. Evaporatory influences further vary the non-uniform concentration of pigment and fluid. It is amazing to witness and participate with all of these various quotients....often the equation works itself out quite differnetly than you might imagine.
If you're interested in an illustration of a typical Jason exploration with watercolor pencils and watercolors, click here!
The Images...
Click on a thumbnail to enlarge the image. Clicking on the enlarged image will bring you back to this page.
| | |
| --- | --- |
| Absence, 1999 | Heavy, 1999 |
| Please, 1999 | Unshackled, 1999 |