My Takedown Longbow!
Here are photographs of the first laminated bow I've made, a deflex-reflex takedown longbow. Made from three laminations of red elm (two tapered, one parallel) between two laminations of bow-tuff fiberglass, this 64 inch bow pulls a remarkably smooth 58 lbs at 28 inches. The riser and limb tips are also red elm.
The form I used to laminate the limbs for this bow was not quite square, and as a result there is a whisper of limb twist in each limb. This was a serious dissapointment to me, however I was extremely surprised that it does not seem to impact the performance of the bow. Perhaps I just don't know any better, but I was pleasantly surprised drawing the bow for the first time. Letting the string go was even more pleasing, as the arrow leapt from the string much smoother than I had anticipated, flying fast with remarkable stability.
I have yet to finish the bow, the reason for this quite amusing: It is now my favorite bow and I can not bear the thought of not being able to shoot it for a week while I wait for the finish to cure! Before finishing the bow I have a lot of small shaping details to work out (ie: tapering the reinforcements on the limb tips), again the time required to do this competes with all-too -fun shooting time on the bow!





Profile of unstrung bow. January, 2002.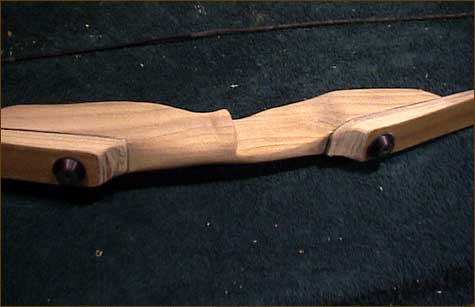 Riser Detail. January, 2002.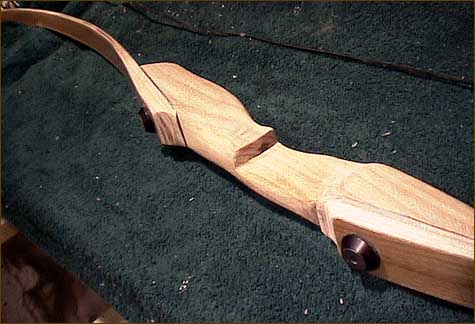 Riser Detail. January, 2002.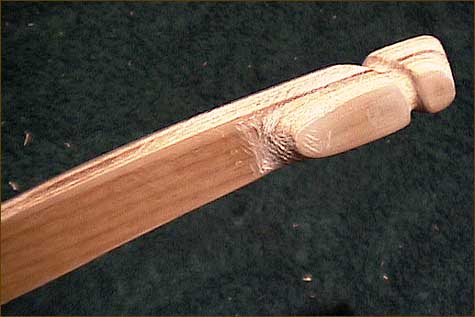 Limb Tip Detail. January, 2002.